Lost Distillery Auchnagie (Archivist Collection) – Producer: Lost Distillery Company. Distiller(s): undisclosed. Region: Highlands (in theory–see below). ABV: 46%. No age statement. Price:
Lost Distillery Stratheden (Archivist Collection) – Producer: Lost Distillery Company. Distiller(s): undisclosed. Region: Lowlands (in theory–see below). ABV: 46%. No age statement. Price:
Lost Distillery Gerston (Archivist Collection) – Producer: Lost Distillery Company. Distiller(s): undisclosed. Region: Highlands (in theory–see below). ABV: 46%. No age statement. Price:
There's no shortage of independent bottlers finishing, bottling, and/or blending big-name (or obscure) single malts in interesting ways. The Lost Distillery Company takes a different approach.
The name suggests they might be about tracking down malt from shuttered distilleries and bringing it to market. What they actually do is more interesting: giving shuttered distilleries a speculative life-after-life by sourcing and blending malts meant to approximate their styles.
Speculative is the key word here. The Lost Distillery Company is up-front about what they do and don't do:
We don't have a warehouse full of old forgotten whisky, we don't have a secret recipe or DNA analysis and we don't have plans to reopen any of these lost distilleries. The answer to what we do lies in the history books…
An "Archiving Team" headed up by Professor Michael Moss from The University of Glasgow determines what it can about the key components that would have made up a given lost distillery's products: era, water, barley, still, wood, etc.
Our Archivists and Whisky Makers, along with a panel of selected 'noses', attempt to bring to life the evidence before them. They create a blend of single malts from different distilleries and with different flavour profiles, tweaking the composition to sit easily with both the evidence of the archivist and the interpretation of the whisky makers.
Naturally, there's quite a bit of guesswork in the process. And there's no one around from 1910 to say, "Eh, you need about 10% more peachiness on that Towiemore, mates."
That said, the Lost Distillery Company does impress with the depth of their research into the distilleries whose names they use, presented in great detail on their website.
The big question, of course, is whether they impress with their malts. Read on…
Lost Distillery Auchnagie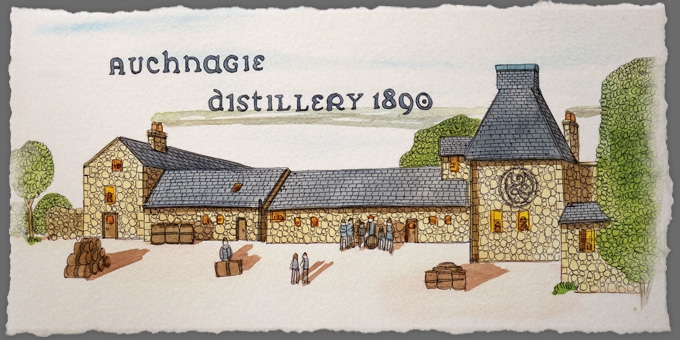 Auchnagie had a century-long run in the Highlands from 1812-1911. The nose of the Lost Distillery Company's recreation has lovely canned fruits in light syrup, with something salty and savory behind it–smoked ham?–and a fragrant wood note.
The palate is quite intense , with a play of light (bourbon-cask fruit) and dark (mature wood) notes. Quite sharp at first, though it softens with time and a few drops of water. There's a hint of white smoke that suggests a very small peated component (this, like all LDC releases, is a blend of single malts), or healthy barrel char. The finish is pleasantly sooty. Salt lick. Lemon peel. Leather.
Very enjoyable, distinctly old-fashioned. Recommended.
Lost Distillery Stratheden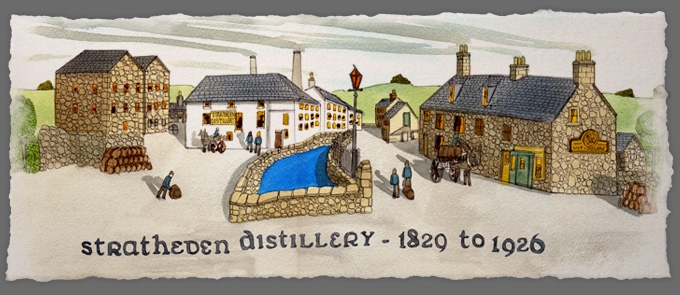 Stratheden (1829-1926) was a Lowland distillery founded by one Alexander Bonthrone, who was so dedicated to the craft that he ran the stills nearly to his death–at the age of 92!
The nose on the LDC Stratheden has a rubbery, tarry note that's quite unusual in the absence of peat, but not unwelcome. A little heat. Sweet mustiness. Freshly polished shoe leather. Orange saltwater taffy. I enjoy the nose so much that I'm in no rush to sip.
Palate is salty, with blackberry syrup and balsamic vinegar  reduction. The finish is long, complex, and intriguing. Think mulled wine with heavy dry spice, especially allspice, and clove.
Every bit the equal of the Auchnagie.
Lost Distillery Gerston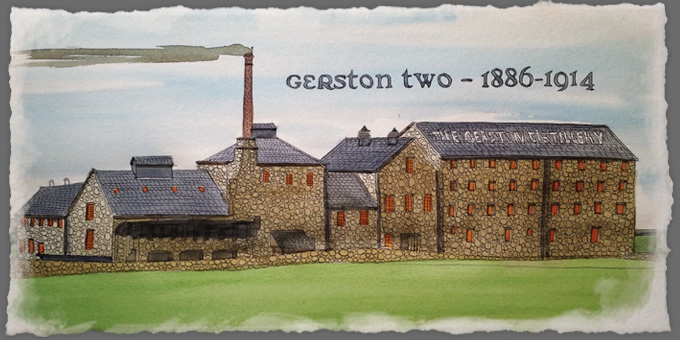 Gerston is a recreation of the malt of two Highland distilleries, Gerston One (farm-scale, 1796-1882) and Gerston Two (industrial-scale 1886-1914).
The LDC Gerston comes on with quite a sweet nose. Vanilla, marshmallow, cotton candy. Distant hint of peat. Butteriness that gives a strong suggestion of some Pedro Ximenez influence in there. Musty, old fashioned in a way that's familiar now after the Auchnagie and Stratheden.
The palate is more savory than sweet: mustard barbecue chicken. Quite mild peat that registers mostly as spiciness. Dried apple with cinnamon. The finish balances dying embers with lingering spice.
Overall
You could call the LDC mission quixotic, but the results are undeniable. When you've had your fill of the rivers of young, bright, uniformly honeyed malts from the big names–when you're in a bit of a musty, old-fashioned, leather-library-binding mood yourself–try a Lost Distillery Company release. I think you'll be glad you did. And be sure to share your thoughts.
Slàinte, friends! – BO
A company representative graciously provided samples for review. As always, our opinions are 100% our own.