I've said it before, and I'll say it again. This whole point of the Axis is connecting with great people over things we all love. Give me a chance to get to know a new friend or catch up with an old one, and I'll as happily bond over pours of a plastic-bottle bottom-shelfer as drams of Macallan Cask Strength.
Alright, I'm somewhat overstating the case. But you get the idea. There's little more important in life than spending it in good company. And a good glass only sweetens the deal.
So imagine the thrill when a friend and whisk(e)y mentor from my first weeks in L.A., Josh from The Whiskey Jug, invited me to take part in a group review with him and four more of the best in the spirits blogging business: Josh of the Coopered Tot, Steve Ury (Sku) of Sku's Recent Eats,  Aaron of It's Just The Booze Dancing, and Patrick (a.k.a "Pops") of Bourbon and Banter.
How does a guy – however cowed to be in such illustrious company – say no to an offer like that?
Part I – Old Crow, New Crow
For Part I of our group tasting, Josh set us all up with samples for a side-by-side of the current Old Crow – a 3-year-old, 40% ABV Jim Beam bottom-shelf bourbon – and a 1970s Old Crow, then a product of National Distillers, which turned out a slew of brands (including Old Grand-Dad and Old Taylor) before Beam bought it out and shuttered ND's distilleries in 1987.
One brand, two distillers, two eras in bourbon. Let's dive in, shall we?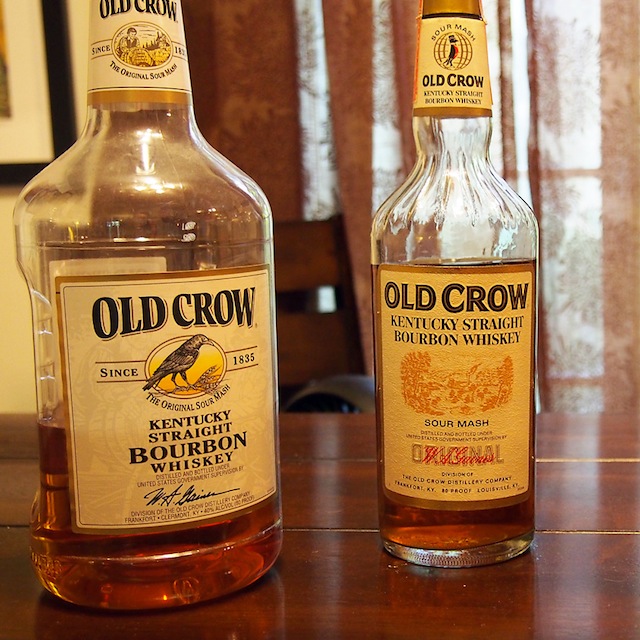 The best thing about doing a group review is being able to highlight what we love about our fellow reviewers. Josh offers an eloquent and fascinating look at the history of the old Old Crow, as he has with many other whiskies:
Old Crow is one of the greatest brand stories in all of whiskey.  It has the most noble and legendary of beginnings but the recipe is lost at least twice along the way and it's currently a bottom shelf item. A classic American Rust Belt tale. Named for Dr. James C. Crow, a Scottish physician and chemist who emigrated to the US in the 1820s and who had come to work for Oscar Pepper in 1838 in Woodford County, Kentucky.  He is generally (and probably incorrectly) credited with inventing the sour mash process where some of the spent mash from the previous batch is reserved and used as a starter in the next batch where it acidifies the mash and provides continuity of yeast and fauna. He also barrel aged his Bourbon in era what that wasn't the norm. And he properly cleaned his mash tuns and washbacks and tended the recipe with a careful and scientific manner. All this gave early Old Crow an admirable level of quality and consistency which made it beloved.
Josh, as always, does a great job of cutting to the chase on the new Old Crow in his earlier review of the current bottling:
It basically starts out life as Jim Beam White Label, but it's aged less and the barrels are mixed to have a lighter flavor before bottling, giving rise to its rather strong corn flavor in lieu of that slightly yeasty flavor of Jim Beam White.
Well said.
As for my own impressions, I'll start with the new Old Crow. It starts with a light, sugary nose. Corn syrup. Smarties candy. Just the lightest touch of the trademark Jim Beam yeastiness. The mouthfeel is on the watery side, with sweet corn and Mott's fruit-cup. Short finish with a little bitterness. Light, sugary, inoffensive, unremarkable. Not where I'd go for my ultra-budget pour, but didn't leave me feeling poisoned.
On to the old timer.
Distiller: National Distillers. 40% ABV. Mashbill: unknown.
Nose: quite nice! Vanilla, integrated with a richer corn sweetness than in the current bottling. A deeper note at the center of it, almost the nuttiness you get from a wheater. Behind that, wet suede. Later on, a faint unpleasant whiff of wood glue, which I remember from the last dusty '70s bottling I tried, a blended Scotch in that case.
The palate is wilder than the new Old Crow, and sharper than the nose led me to expect. Candied lemon. Slightly bitter oak. Medium bodied. Finish is dry and astringent, with a bit of peppery burn – longer than the new Old Crow's, though not by much.
All in all? I enjoyed the old Old Crow more than the new, though neither set off fireworks for me. Still, doing this kind of side-by-side is always great fun, and all the better in great company. Huge thanks to Josh for the chance to take part!
Check back tomorrow for Part II of the group review – 1970s Cabin Still. And don't forget to check out the others' reviews:
Happy National Bourbon Heritage Month, friends! – BO