Joe Beatrice of Barrell Bourbon — a blender and bottler of cask-strength American whiskies that's collected serious accolades since its launch in January 2014 — generously made time for a fun and frank Q&A with the Axis on the origins of Barrell Bourbon, the bourbon shortage (or myth thereof), class action lawsuits, transparency, and more.
The interview has been edited for length and clarity, and corrects the mashbill of Barrell Bourbon Batch 005.
Q. How did you move from the ad game into whiskey bottling? What's your whiskey love story?
A. I started in advertising and direct marketing early on. In 1989 I had the first of two big revelations in my life: I knew the Internet was where I wanted to work. I started a company that did web development, online strategy, and marketing for some pretty big clients. We always had a spirits vertical. We worked with Glenmore Distilleries, which was sold to United Distillers and run by Chris Morris. [Morris is now Master Distiller at Brown-Forman. -BO]
Life went on as it does. Years later my wife and I were at a distillery — just taking a tour as civilians — and I had my second big epiphany: This is what I want to do.
I'd been a brewer my whole life, and the first thing anybody wants to do in the spirit business is to distill. That lasted about a week. The economics of it are awful. I decided I had to make money another way, then come back in a couple of years as a gentleman distiller.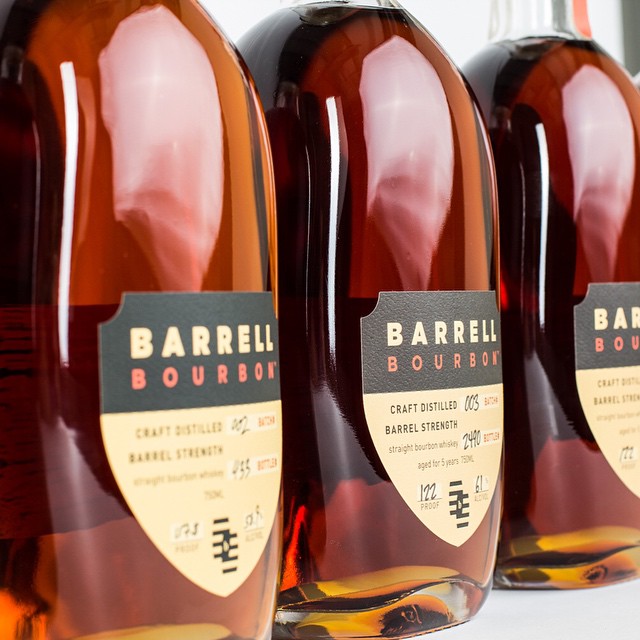 This was at the very beginning of the comeback of bourbon and brown spirits. I saw that the premium and ultrapremium whiskey segments were growing, and I wanted to play in cask strength, because I'd tasted cask strength from the barrel during my career and thought, "Why isn't everybody drinking it like this?"
Q. And now more and more people are.
A. It was amazing. From January 2013, when I really committed to this full time, to our selling our first case in January 2014, the world changed: it was decided that there are shortages — which there actually aren't, though it's fine if people want to think there are. Certainly the big producers are shutting down selling product to the small producers who are creating fictitious brands.
But that's not what I wanted to do. I wanted to do something that was as transparent as possible. I love the concept of the merchant whiskey business in Scotland. [I.e., independent bottlers like Signatory, A.D. Rattray, Gordon & MacPhail. -BO] That's what I'm doing. At least for now, I can't reveal the distilleries — though some people can figure out what some of them are — but I make no pretense: I blend and bottle.
Q. Why not go the other way — invent a legend? Enthusiasts are pushing for transparency more than ever, but you could have gone the other way: dreamt up a great-grandpa from Kentucky…
A. Mainly because I started with the idea that I wanted to focus on cask strength: undiluted, unfiltered. I kept running into the conflict between being true and honest about what's in the bottle, and creating a brand. I have a dog who's a Ridgeback. It could have been Ridgeback Reserve. I kept thinking: There's no such place! I tested those names, they test well, but that's not what I wanted to do. What I would like to happen — and we're actually getting there — is to have people try our product, and the quality they experience from it is something they can rely on.
There's a phenomenon of discovery through connectors and influencers that's in every part of American life now. That's come to whiskey and bourbon. Somebody tries a new brand of bourbon. If they're an influencer, they either like it or they don't, they tell their friends, they then go and look for the next best thing. I want them to look to us for the next best thing every time I do a subsequent batch.
Q. You believe the talk of a bourbon shortage is overblown?
A. You look at the TTB numbers. In 2013, bourbon production went up. In 2014, production actually went down. A lot more went offshore than you realize. But there's hundreds of thousands of barrels in the rickhouses.
One of the things you're seeing is that the people who have all the money tied up in this thing are saying, "When are we going to cash out on this boom?" It is a bubble. I'm paying almost three times more for bourbon as when I started [two and a half years ago]. People can demand it because the supply has been constricted — but that doesn't mean that it isn't there.
People will argue the point, but if there's no whiskey, why are there no warehouses within 20 miles of Bardstown and Louisville that will take a barrel because they're all full?
I made a connection with the guys that bought the Old Taylor Distillery, and I went down to visit and fell in love with the place. It's this crazy, haunted vision of what Col. Taylor built. We moved all our barrels out there, and it's where we play with them, decide which we're going to blend, which we're going to do as single barrels. It's an amazing place. They can't call it Old Taylor because Buffalo Trace owns the name, but there's all kinds of stuff going on at that place. Marianne Barnes went there from Woodford & Graham — she's going to be their Master Distiller.
Q. What's coming down the road for you?
A. We just bottled Batch 5 of the Barrell Bourbon, which is an 8-year and 3-month-old bourbon from Tennessee. I gravitate toward high-rye bourbons. The mashbill is 70% corn, 26% rye, and 4% malted barley. It's bottled it at 124.7 proof. Those barrels were from one production day. It's very, very good. For Batch 6, we're going to do another variation of the Tennessee bourbon, again an 8-year-old. That'll be a blended batch.
Then I'm going to do a single barrel bottling. It's going to be a true single barrel. One thing people are doing now is taking a bunch of single barrels, dumping them, cutting them, then putting them back in the barrels, and bottling those barrels. It's technically a single barrel bottling, but it's not really. Do we have to do this with everything? Then somebody's going to find out the single barrel you drink isn't really a single barrel…
Q. And it's time for the next industry scandal.
A. Exactly. I went to the American Distilling Institute conference this year, and went to a couple of the class action suit seminars they held. That made me go back and take a couple of trigger words off our website. "Small batch." I buy our whiskey from a big producer. It is produced in small batches. I buy a small amount of it. Then whatever I do with it is in a small batch — but we're phasing it out. The benefit of using the term "small batch," compared with being named in a class action by these idiots who are just looking to shake down an industry…it's not worth it.
Q. Where are you at with distribution?
A. We're in New York, New Jersey, DC, Illinois, Massachusetts, Rhode Island, Connecticut, and we just shipped to North Carolina and Tennessee. We're trying to figure out Washington, Idaho, Oregon, and California before the summer's over.
As we go forward, we'll be doing some distilling too. One of the things I'm negotiating — with some pretty amazing distillers — is that I'll be able to say who's doing it for me. We'll be developing the mashbills, the yeast strains, and in a couple of years, we'll blend some barrels and see how it goes. I love this business. I love what I do.