Best Father's Day gifts for a whisk(e)y-loving Dad? We've got you covered.
1. Barrell Bourbon "Dad" Single Barrel Bourbon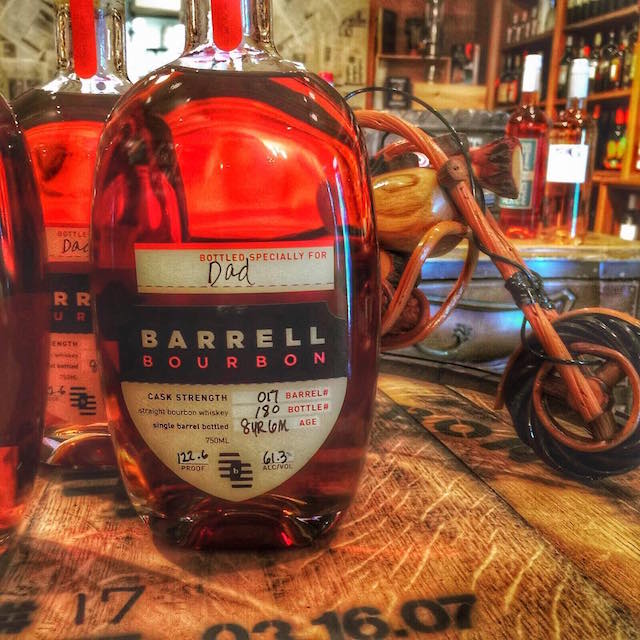 Our friends at Mash + Grape have worked with Barrell Bourbon founder Joe Beatrice for an exclusive Father's Day release of one of Joe's brilliant cask strength bourbons (which have won Double Golds at the San Francisco World Spirits Competition, among a raft of other awards). This one's an 8.5-year-old, 61.3% ABV knockout. Leads with vanilla and buttery corn bread, then adds caramel and cinnamon, before a long, lush, spicy finish.
$99 online at Mash + Grape–order by June 7 for guaranteed Father's Day shipping. And make sure Dad knows how to share.
2. Personalized Crown Royal Northern Harvest Rye
Crown Royal's Northern Harvest Rye was the surprise pick for Jim Murray's 2016 World Whiskey of the Year, and whatever the controversy, it's a masterful blend, and the latest of several recent releases that are changing enthusiasts' minds about Canadian whisky.
Grab Dad a bottle, then use offer code CROWNFATHERS at Crown Royal's online store for a free personalized embroidered gift bag to go with it.
3. A Trio of Brilliant Whiskey Books
Dad will love any one–or all three–of our personal favorites:
Our friend Mark Bylok's The Whisky Cabinet is an incredibly friendly introduction to the varieties, regions, distilleries, and culture of our favorite spirit–and the format makes it a great coffee table book.
Reid Mitenbuler's Bourbon Empire is for the history/politics/economics buff, a story of American capitalism told through our native spirit that also manages to be a blazing fast read.
And Lew Bryson's Tasting Whisky is a great all-around primer, in-depth without being overwhelming, the real "whiskey bible" in my book.
(No offense to Jim Murray, whose annual Whiskey Bible is an excellent reference, if Dad's ready to go in-depth.)