What's it like to taste $50,000 worth of whisky?
It's a hard question to answer – even once you've done it. But one thing's for sure: the experience around it says a lot about the wild moment in the ultra-premium whisk(e)y market we're living through.
The Axis was lucky enough to receive an invitation both to the press/industry preview of Glenmorangie's #Unseen Luxury Pop-Up in New York City this September, and, amazingly, to a VIP Tasting of Glemo's mind-blowing 1970s Collection – only 10 in the world, only 3 of them in the U.S., retailing for $50,000 apiece. (N.B.: The event was covered for the Axis by our dear friend J.T. Rickhouse – lucky guy. The tasting notes below are his. – BO)
We approached the pop-up and tasting with lots of questions. What is a brand like Glenmorangie trying to accomplish with such a wildly expensive offering? Scotch exports fell by 7% globally and by 9% to the U.S. in 2014. There's more competition than ever from the U.S. super-premium bourbon revival, from malt whiskies from Japan, India, South Africa, Scandanavia even. How do major brands find a balance between exclusivity and aspirational dreams (e.g., a 5-bottle set costing $50,000) and securing a broad enough market for sustained growth?
The pop-up itself, opened first to press and industry folks on Monday, then to enthusiasts more broadly (if they could reserve spots fast enough) Tuesday to Friday, was all muted tones, mood lighting, and free-flowing Glemo, from the Original 10-year-old to the 25-year-old and high-end NAS Signet.
The VIP Tasting took place in a hushed back room, where backlit bottles lined the wall. Presiding over the proceedings was Glenmorangie Master Distiller Dr. Bill Lumsden. He's a man who seems born to the role of the modern master distiller – a role that increasingly calls not only for a wealth of technical knowledge and an unerring palate, but a mind for marketing and the retail political skills of a great candidate.
Dr. Bill began the 1970s tasting by reminiscing about growing up in the '70s and '80s. He joked that his whole family were "seasoned whisky drinkers" – mother, father, grandparents, uncles. It was in the '70s that he had his first whisky, though his first single malt didn't come until 1984 – a Glenmorangie 10, fittingly enough.
The back story of the 1970s Collection itself: Dr. Bill told of coming across old dusty cardboard boxes of bottles in the warehouse and beginning to sample them purely out of curiosity. Although the records of the specific vattings had been lost, he was eventually able to authenticate the whisky in the bottles. Three of the bottles in the  1970s Collection are drawn from these accidentally rediscovered dusties; the remaining two are rereleases.
The tasting began with a whisky not in the 1970s Collection, but one that set the tone well: a Glenmorangie 10 year old that was bottled in the '70s. It was a significant time for GM and other single malt distillers, as they were beginning to revive single malt production and sales after a long focus on blends.
The 1970s 10 was clean and fresh, with more citrusy flavors than the current 10, and a bit more bite. The overall profile was clearly GM's, and it was very interesting to taste a single malt bottled during the reintroduction era. (All told, our man preferred the current 10, which benefits from many years of fine tuning.)
On to the main event:
Of the five bottles in The 1970s Collection, the tasting included three – The Glenmorangie 1971, The Glenmorangie Tain l 'Hermitage 1975, and The Glenmorangie 1977. (Two other 1970s vintages were included that were not part of the collection, as substitutes for the two collection bottles that were not available.)
The Glenmorangie 1971 was distilled on New Year's Eve that year, at a time when the distillery had only two stills. This bottling was matured for 26 years and bottled in 1998 at 43% ABV. Records don't show its exact composition, but Dr. Bill's best guess was that spirits separately matured in sherry and bourbon casks were blended together, with approximately 60% from the bourbon casks. Malting was done by hand at the time, and the overall production process didn't have the consistency that it does today.
This was evident right away on the nose – strikingly intense and musky. Hints of a damp dog returning from roaming the shores of the Dornoch Firth on a misty morning. There were also rich sherry notes. Then a surprising initial taste of sweetness and rich molasses and coffee, followed by a dry, clean and fresh finish. There's nothing like it among today's younger releases. It was the standout tasting of the night, and was complemented well by a pairing of caviar on buckwheat blini with crème fraiche and chives.
The Glenmorangie Tain l 'Hermitage 1975 is a 46% ABV, non-chilled filtered 28-year-old that had an original 4,000 bottle release in 2003. It was first matured in American oak casks, then finished in casks that previously held fine red wine from Tain l'Hermitage in France's northern Rhone Valley. This dram really showed off Glenmorangie's pioneering efforts at wood finishing in the 1980s. Both the original "Sixteen Men of Tain" and the men of Tain l'Hermitage should be proud of their contributions to this masterpiece. The deep mahogany-colored whisky had a nose of rich and sweet fruit, especially plum. The primary taste was fruity, starting out sweet, then turning tart, like an unripe peach. Eventually there were notes of marmalade. It had a chewy texture, with some bite and spiciness, and a particularly enjoyable aftertaste of rich licorice. The whisky was well matched with a pear stuffed with crème de bleu and flowering herb.
The Glenmorangie 1977 is a 28 year-old that was distilled in April and June of that year and bottled in 2005.  It matured in American white oak casks and is the only whisky in the 1970s Collection that was made after the distillery concluded its own maltings. This was Dr. Bill's favorite of the five-bottle collection – he said he'd never tasted a whisky with such finesse and complexity. The bright gold whisky had a nose of perfume and orange, followed by strong vanilla from the oak maturation, and slight banana and smoke. The taste was sweet like crème brulee with a bit of crisp citrus, and perhaps apple as well. Dr. Bill described it well as gently stroking you, seductive and eloquent. Truly a temptress of a dram. The finish was clean and dry with remnants of the light smoke. The whisky was paired with a tartlet that had an interesting and complex combination of fava beans, zucchini, mint, and whipped feta.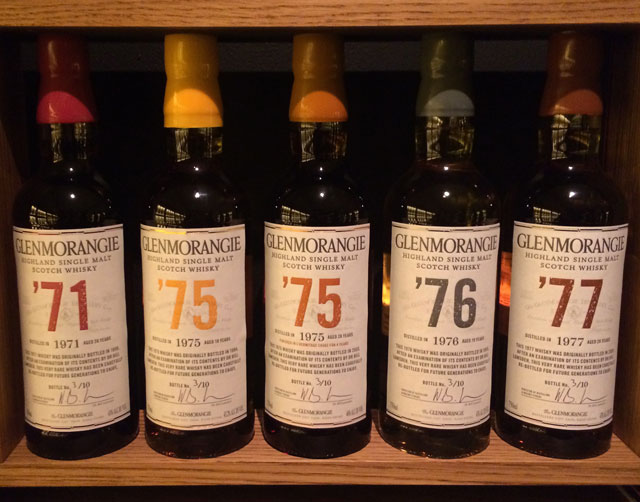 In conclusion, the tasting was one to remember, but it didn't answer our biggest questions – at least not entirely. There seems to be no ceiling for the prices of super-exclusive offerings like these. The distillers know the releases themselves will bring significant media attention, and will contribute to the aura of exclusivity that helps burnish their brands – even, and perhaps especially, among the overwhelming majority of whisky lovers, those for whom a bottle with a three-digit price tag can only be an occasional luxury – never mind one with a five-digit price tag.
But if big-ticket items like these introduce more folks to truly lovely everyday drams like the Glemorangie Original 10, and if offerings like those remain plentiful and affordable, all the better.
Thanks again to Glenmorangie for extending such a generous invitation, to Scotch in the City for sharing pictures from the press opening, and to J.T. Rickhouse for providing such great tasting notes.
Sláinte, friends! – BO, TM & JTR